johannesburg — 
China and the U.S. presented competing visions for development in Africa this week as several leaders from the continent attended Beijing's Belt and Road Forum marking the 10-year anniversary of the global infrastructure initiative.
The Belt and Road Initiative, which aims to connect the world through trade by investing billions of dollars in land and sea infrastructure projects, has broadened over the last decade.
"Belt and Road cooperation has expanded from physical connectivity to institutional connectivity," said China's President Xi Jinping in a speech at the opening ceremony of the forum, which ended Wednesday.
The Chinese president announced $100 billion in new funding and promised to "work with all parties involved to deepen Belt and Road partnerships, usher this cooperation into a new stage of high-quality development and make relentless efforts to achieve modernization for all countries."
African leaders in attendance included Kenyan President William Ruto, Ethiopian Prime Minister Abiy Ahmed, Nigerian Vice President Kashim Shettima, and Republic of Congo President Denis Sassou Nguesso. They represented nations that have been recipients of BRI investments and were seeking new funding for various projects, analysts said.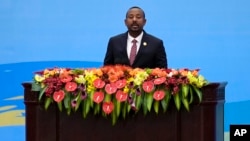 Paul Nantulya, research associate at the Africa Center for Strategic Studies in Washington, told VOA he saw signs of a "strategic shift" in Chinese lending after sharp cuts in the amounts allotted in recent years.
"I think we're now going to see an uptick … an upward trend that makes a sharp turn from the last two to three years," he said. "I think this is Belt and Road 2.0."
While analysts have noted a move toward smaller, greener initiatives along with smaller loans, Xi's speech — which boasted of "brand-new airports and harbors, smooth roads and newly built industrial parks for business" — gave no indication the BRI was winding down.
In addition to hard infrastructure, Nantulya said Xi's focus going forward would address calls from African leaders for projects that create added value, including industrialization, green energy and training.
A Biden BRI?
Green energy and value addition are also target areas for the administration of U.S. President Joe Biden as it attempts to increase engagement with Africa.
African countries are home to many of the critical minerals, such as lithium and cobalt, needed for the transition to clean energy — and China has had a head start in extracting and processing them.
"Now, it's true that the United States is playing a bit of catch-up on the continent when it comes to critical minerals, and there are other players, like … China, who have been here and have made significant investments in the mining sector in Africa for quite some time," said Joshua Volz, the deputy assistant secretary for Europe, Eurasia, Africa and the Middle East in the Office of International Affairs at the U.S. Department of Energy.
"We're here to offer an alternative, perhaps an alternative model, to developing Africa's critical minerals," Volz said in an interview with VOA during his visit to South Africa this week for Africa Energy Week.
That mode "is one that's based in partnership and has at its core the ability for African partners to climb the value chain of those resources instead of simply having them be extracted and taken overseas for processing," he said.
"What we're looking to do is create some options for our African partners. You know, we've long been wary of some of the tactics and the methods that our counterparts in Beijing employ when it comes to development opportunities, throughout the world but especially here on the continent," he said.
Last month, on the sidelines of the G20 summit, the U.S. and European Union pledged to develop the partially existing Lobito Corridor — a railway connecting the Democratic Republic of the Congo's cobalt belt to Zambia's copper belt and on to Angola's port of Lobito, from where materials can be shipped to international markets.
"One of the areas where our African partners have historically struggled is with the infrastructure necessary to catalyze investments to develop those resources. The Lobito Corridor is a great example of that," Volz said.
While China has been investing in African infrastructure for years, the White House's announcement may signal the U.S.is also jumping into the infrastructure game on the continent.
"I think that this should be seen as a proof of conduct, as a first foray, but certainly not as the last," said Volz.
African agenda
Some African leaders have tried to capitalize on the power competition.
Kenya's Ruto is seeking about $1 billion in new financing for stalled road construction projects.
"My coming to China this time around is a confirmation of our commitment to elevate this relationship for the mutual benefit of Kenya and China," Ruto said.
He encouraged Beijing to use its leverage to reform international financial institutions so nations in the developing world can access more financing at below-market rates.
"China has a special place, no doubt, to have the ability to enhance the competitiveness of Africa," Ruto said during the Belt and Road Forum.
Observers said the Kenyan leader has been taking advantage of that opportunity, especially recently.
"President Ruto's administration took a more than semidetached approach to its relationship with China and pivoted back towards its established partners in the West ahead of this visit to China," said Aly-Khan Satchu, an economic analyst based in Nairobi.
"However, hardcore fiscal pressures have, I believe, forced him to temper his Western pivot. By all accounts he is looking for some relief from China."
Cliff Mboya, an Africa-China analyst in Kenya, does not agree. He said Ruto was less concerned than in the past about securing Chinese investments and capital.
"China is well aware that he is leaning West and his international posture generally supports Western policies," Mboya said.
One of the other African heavyweights who attended the Beijing forum, Ethiopia's Abiy, said China "continues to be a critical partner for Ethiopia."
China has invested in Ethiopian projects including a railway and roads. During Abiy's visit, Beijing upgraded its relationship with Addis Ababa to become what Xi described as "all-weather friends" and signed multiple bilateral agreements.
While major leaders from East and West Africa descended on Beijing for the BRI anniversary celebrations, Cyril Ramaphosa, the president of Africa's most developed economy, South Africa, was absent. But analysts said one should not read too much into that.
"It doesn't strike me as odd, because presidents would usually visit if they also get a one-on-one with Xi, and Ramaphosa had a big meeting with Xi on the sidelines of the BRICS summit" in August, said Cobus van Staden, a researcher at the South African Institute of International Affairs.
"Xi's meeting schedule is so dense at this kind of event that it probably had more to do with timing and logistics rather than reflecting a vote of no confidence from SA."
BRICS is a coalition of the emerging economies of South Africa, China, Brazil, Russia and India. In 2024, Argentina, Ethiopia, Egypt, Iran, Saudi Arabia and the United Arab Emirates will join the bloc.