By Keiller MacDuff of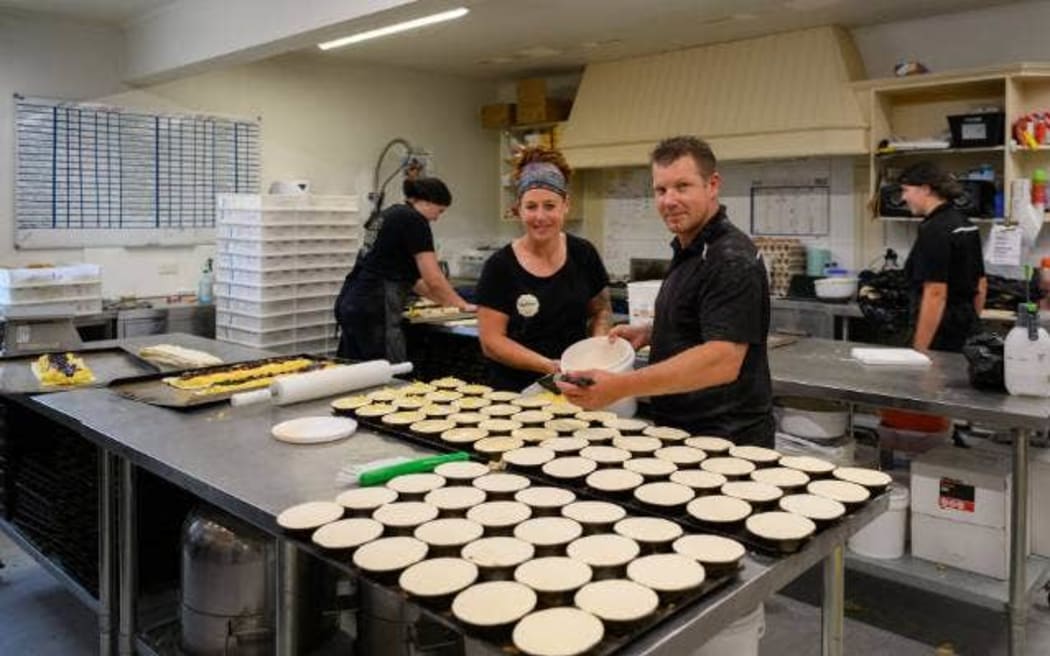 Sheffield Pie Shop owners Loretta and Shane Paterson​.
Photo: Stuff/Kai Schwoerer
A queue of eager punters snaked out the door at one of Canterbury's most popular pie purveyors on Friday, waiting patiently to snap up one of the 6000 pastry parcels produced each week by a husband and wife duo and their team.
About an hour from Christchurch, well-placed for day trippers, skiers, tourists and tradies alike, the Sheffield Pie Shop and its sister store and bakery in Oxford are on the market.
Owners Loretta and Shane Paterson​ say it's time to move on.
"We feel like we've done what we set out to do."
The couple, who have known each other since their time at Darfield High School, have spent two decades running one of Canterbury's most significant lunch joints, which saw a combined revenue in the last financial year of close to $5 million.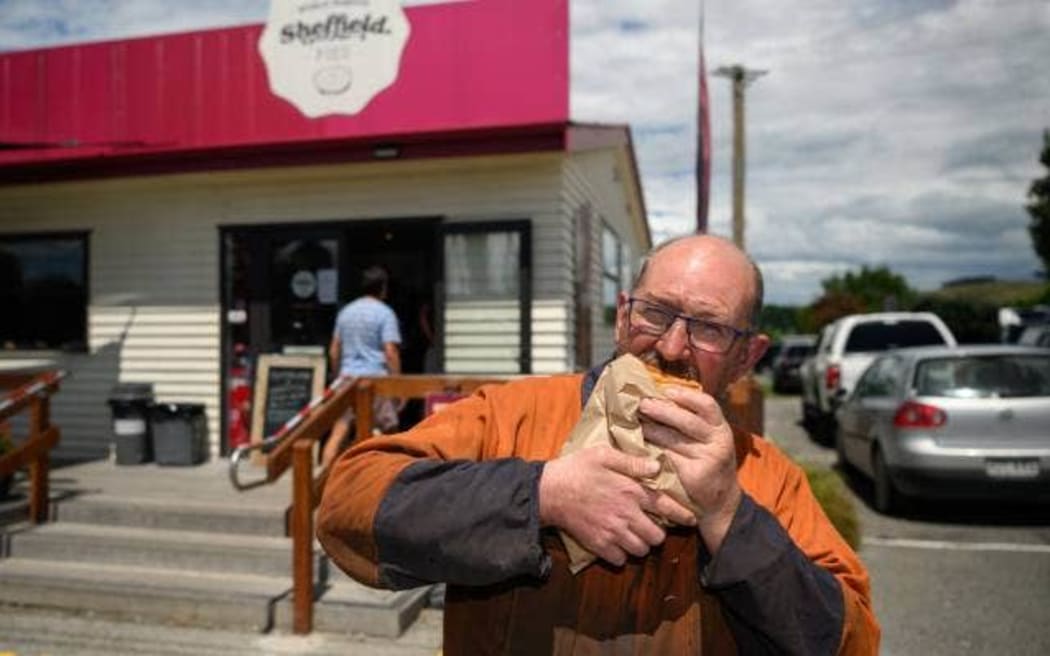 Regular customer Richard Broughton, of Hororata, enjoys a pie in front of the original Sheffield Pies shop.
Photo: Stuff/Kai Schwoerer
The Sheffield bakery dates back to the mid-1970s, located in a modest house on a back road and known to supply pies to locals through a window, before moving to its current site in the Sheffield Post Office building.
Loretta Paterson was part of a generation of Sheffield School alumni who grew up eating the pies, and worked at the then-Canterbury Caterers part-time while at high school, while her husband fondly remembers getting a Sheffield pie as a treat post-rugby match "after a few jugs".
The pair gained their qualifications as bakers before embarking on their OE, where they got a taste of working together in pubs and restaurants across the UK.
Paterson and her mother bought the bakery in 2002, inviting Shane to come on board.
At first, they stuck with catering and wholesale, supplying "a couple of big customers", but after being dropped by some of those for cheaper rivals, they created the gourmet pie line that made the shop famous.
"We were stuck in Sheffield in the middle of nowhere, and realised we'd have to make bloody good pies here or people won't stop," Shane Paterson said.
The exponential increase in popularity since was word-of-mouth driven, with media coverage and a growing collection of pie awards assisting, he said.
In 2015, they took over the former Seager café and cooking school in nearby Oxford, and now employ some 40 people across both sites.
All the baking takes place at Oxford, with a van ferrying pies to the Sheffield shop twice a day.
Baking starts at 3am during the week, and 2am on the weekends.
The hours are "not very sociable, but you get used to it", said Loretta Paterson.
Neither are sick of pies, despite the millions that have passed through their hands.
Loretta Paterson has a soft spot for the chicken, apricot and camembert, while her husband's favourite is the New York pepper.
While they give their bakers "free rein" to experiment, people invariably come back to the tried and true, with steak and cheese coming out on top, mince and cheese a close contender, and venison and whisky relish "going ape".
The changes in the Kiwi palate over their 20 years at the helm have been massive.
When they started out, they had a kettle and instant coffee, now much of the business at the Oxford cafe is coffee-based.
While Covid-related lockdowns and closed borders made a dent, they were "very lucky compared to some other businesses" thanks to local support, Shane Paterson said.
And, just as happened during the post-earthquake recovery, they found lots of people just wanted to get out of town.
Inflation is another pressure, and they increased prices just before Christmas.
"Fat went up 25 percent last year, mince about 15 percent. Flour's gone up too, and that's when you can get it."
It is a fine balance between "keeping your quality up without sacrificing margins", but they wanted to keep their products accessible.
"It's a luxury to be able to buy your lunch. We try to keep 'country prices', and we don't scrimp on fillings," Loretta Paterson said.
The couple, who have three children, have combined working and living together for almost 20 years.
"It has its challenges. It can be hard to draw the line between work and your personal life, but we work pretty well as a team, and you just have to learn to find time for yourself."
The business, which went on the market late last year, is selling for $1.65m.
There has been interest already, with a few people coming out "to kick the tyres", but it's "a matter of finding the right fit", said Shane Paterson.
Loretta Paterson was looking forward to the "freedom of not being the boss", while her husband said he is considering going into sales, or something sports-related – his non-pie passion.
Among the pie-aficionados and pie-curious queueing in the midday sun on Friday was Christchurch's Leon Joslin, who had brought his parents, Laurie and Pam Joslin, who were holidaying from Basingstoke, England.
The family were still sharing a laugh after Laurie Joslin's pie faux pas.
The Englishman had bought two pies – a steak and cheese for lunch, and then what he had assumed to be the largest Christmas fruit mince pie he'd ever seen – only to bite into the 'other' mince.
This story was originally published on Stuff.