Watch live: Question time in the House of Representatives
By
Lachlan Abbott
Question time in the House of Representatives is now underway and you can tune in here.
ASX closes higher, bolstered by energy and lithium shares
By
Billie Eder
The Australian sharemarket closed higher on Tuesday despite a negative Wall Street lead and fears that China will reinstate stringent COVID-19 restrictions.
The local bourse fared better than feared on Tuesday following a rocky Wall Street session overnight that saw stocks flip-flopping amid investor fears that China would further tighten lockdown protocols.
SAXO market strategist Jessica Amir said that despite the China jitters the Australian market opened higher, and there were a few standout sectors.
"We defied the odds and there are a couple of reasons for that. We saw bright sparks in lithium, fertilisers, coal and banking," she noted.
You can read a five-minute recap of the trading day here.
Street personality in hospital after 'violent' arrest
By
Michael Koziol
In Sydney, police have been accused of using excessive force against well-known CBD street personality Danny Lim after footage of his violent arrest at the Queen Victoria Building circulated on social media on Tuesday.
NSW Police confirmed officers were called to the QVB by security guards shortly before 11am after Lim – who was wearing a trademark sign saying "SMILE CVNT! WHY CVNT?" on one side – failed to leave the building when asked.
Police said Lim was issued with a move-on order but failed to comply. His arrest was discontinued after he sustained a cheekbone injury during a struggle with police.
Footage posted to Twitter shows the 78-year-old Lim yelping as he resists arrest and then being manhandled to the ground by two police officers. His head is seen hitting the hard, tiled surface of the QVB floor.
Read the full story here.
Australia ratifies free trade deals with UK, India
By
Dominic Giannini
Free trade agreements with the United Kingdom and India will pave the way for farmers to face fewer taxes on their goods.
The agreement between Canberra and London will scrap almost all taxes on Australian products entering Britain, including meat, dairy, sugar and wine.
Taxes on 90 per cent of Australian goods exported to India, including meat, wool, cotton, seafood, nuts and avocados, will also be removed.
The agreements were passed by parliament today.
Trade Minister Don Farrell said the agreements would help Australia reach its full economic potential.
"More trade, not less, is a key part of how we build the economic future we want in Australia with secure, high-paying jobs," he told the Senate.
Farrell said the agreement with India provides the opportunity for a second tranche of trade negotiations for greater access to a market of 1.4 billion people.
Prime Minister Anthony Albanese intends to lead a trade and business delegation to India early next year.
Opposition foreign affairs spokesman Simon Birmingham said the agreements created "a vibrant network … to enable Australian businesses to succeed in the world".
The agreements will not automatically come into effect once they pass the Australian parliament, with both needing to be ratified by the respective partner nations.
Farrell told ABC TV: "All of the benefits that flow from the India free trade agreement should be available to Australian producers this year.
"Unfortunately, the English system is slightly more truncated. I'm still hopeful we might get it this year, but it may be early next year."
Albanese discussed the deals with Indian Prime Minister Narendra Modi and British Prime Minister Rishi Sunak last week on the sidelines of the Group of 20 summit in Indonesia.
The deals would come into force 30 days after countries have advised each other in writing that the supporting legislation has been passed by their parliaments.
AAP
First refugees from Nauru settled in New Zealand
By
Dominic Giannini
The first six refugees to be resettled in New Zealand under a deal with Australia have arrived in the country from Nauru.
Australia has accepted Wellington's longstanding offer to resettle 150 refugees a year for the next three years.
A flight from Nauru landed in New Zealand today.
Home Affairs Minister Clare O'Neil said: "The Australian and New Zealand governments continue to work together to resettle annually 150 refugees from Australia's existing regional processing cohort."
There are now fewer than 100 people left in Australia's offshore processing centre in Nauru.
AAP
Trade minister to 'fight hard' for prosecco industry to keep its name
By
Rachel Clun
The trade minister says Australia will "fight hard" against the European Union push to get local prosecco renamed.
Winemakers have converged on Canberra today to urge the government to back their case, and help protect the $200 million bubbly market ahead of the next round of negotiations with the EU over a free trade agreement.
Protections for the names of certain foods and drinks, known as geographic indicators, are a crucial component of the final negotiations for the agreement.
Loading
Italy has renamed the prosecco grape "glera", and is pushing to get the name prosecco protected under the deal.
Speaking on ABC's Afternoon Briefing, Trade Minister Don Farrell said Australia had not conceded to that request.
"We continue to fight hard for Australian winemakers," he said.
"There will obviously be discussions taking place over the next three to six months. It's one of those issues which is difficult in the set of negotiations.
"But my mum used to tell me every problem has a solution, and we'll find a solution to this problem."
Winemakers fear allowing the EU to protect the name prosecco would set a dangerous precedent that could flow to other varieties like sangiovese.
DFAT works to confirm safety of Australians in Solomon Islands
By
Megan Gorrey
Foreign officials are working to confirm the safety of all Australians in the Solomon Islands, after a strong earthquake collapsed the roof of the Australian High Commission in the capital of Honiara earlier today.
The quake that hit Malanglo in the Solomon Islands has been revised down to 7 from 7.3 magnitude. A tsunami warning was issued earlier today; however, there is now no tsunami threat to the country.
Prime Minister Anthony Albanese said in question time today the Australian High Commission building in the capital of Honiara was damaged in the quake, but all staff were safe and believed to be uninjured.
"The roof of the High Commission has collapsed, which points to likely damage throughout the city. Staff have been moved to higher ground because there was a tsunami warning that was issued."
Albanese said staff at the High Commission were seeking to confirm the safety of all Australians, but they faced communications difficulties as the phone lines had gone down.
Loading
He said the Department of Foreign Affairs and Trade had set up a task force to lead consular response and support, while local police were conducting a damage assessment.
"We have contacted Prime Minister [Manasseh] Sogavare to once again indicate Australia stands ready to assist," he said.
"We await further news."
Albanese said anyone concerned about their loved ones in the Solomon Islands could contact the consular emergency centre on 1300 555 135 (for callers in Australia), or +61 262 613 305 (for callers outside Australia).
Meanwhile, at least 162 people are dead and more than 700 are injured after a 5.6 magnitude earthquake shook Indonesia's main island of Java, damaging more than 2000 homes and displacing an estimated 13,000 people.
Albanese said he had conveyed Australia's condolences to Indonesian President Joko Widodo for "this tragic loss of life, and we will stand ready to provide our friends in Indonesia with support as Australia always does".
Opposition Leader Peter Dutton said: "We send our condolences in particular to families in Java who have lost loved ones and those in the Solomon Islands that will be panicking about where their loved ones are.
"We don't know the extent of the damage yet, but it will require assistance from Australia no doubt and as the prime minister rightly points out, our country will always stand with our near neighbours … [to] provide them with support in their hour of need.
"And to our people on the ground, we have many staff in the Solomon Islands at the moment, so we wish them every safe passage."
Children's charity The Smith Family hit by cyberattack
By
Nick Bonyhady
To breaking news now, and children's charity The Smith Family has become the latest major Australian organisation to fall victim to a cyberattack, with hackers accessing confidential information about its donors including credit card details.
The charity today confirmed it detected a data breach in October, and it successfully stopped hackers from stealing its funds. But after digital investigators completed an investigation, they found that donor names, addresses and contact information was accessed along with the partial credit card information.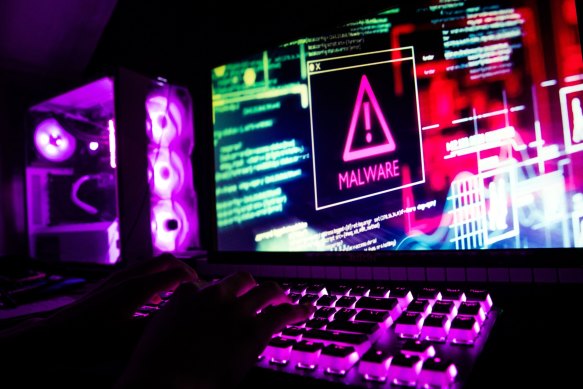 "We apologise for any concern or stress that this incident may have caused," chief executive Doug Taylor said in a statement. "We're contacting every single donor and sponsor about the incident, whether their information may have been accessed or not."
There is no indication so far that any donor information has been misused, Taylor said, though recent cyber breaches including the attack on Medibank has shown early indications are often unreliable.
The card information breached is limited to the first four and last digits on some cards. Other card data is not stored by The Smith Family, it said.
Read the full story here.
SA government offers funding as floods declared a major emergency
The South Australian government has unveiled a $51.6 million assistance package for property owners and businesses set to be hit by flooding along the Murray River.
The money will fund levee construction and repairs, support businesses and provide assistance to individual homeowners.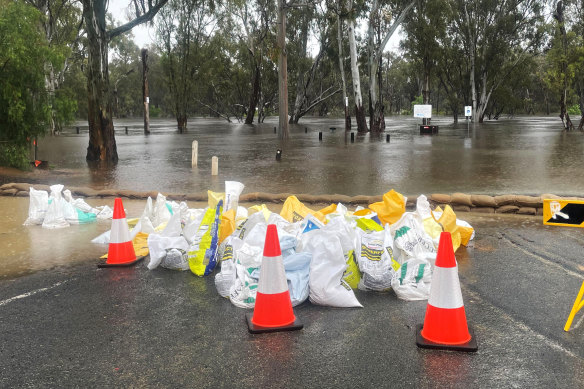 It includes $9.3 million for levee works, $4.8 million for sandbags and other defences, rental assistance for families, up to $20,000 grants for businesses forced to close and grants for the purchase of generators for properties set to lose power.
The government has also set aside $1 million for mental health support, $3 million for vouchers to encourage tourists to continue to visit the region and $10 million for infrastructure repairs including roads.
Premier Peter Malinauskas, who took his cabinet to the Riverland on Tuesday to meet with local officials, said the government and the people of SA were ready to respond to the challenge.
"We see this as a very substantial package that may end up being the first," he said.
"We need to be flexible as a government to respond to the needs as they change over the weeks and months ahead.
"We face the real possibility of a protracted event where we have high river flows going right into the early months next year, potentially even into autumn."
Treasurer Stephen Mullighan said the government was not concerned about the impact of the assistance on the state budget.
The floods have been declared a major emergency with forecasts of two distinct peaks in water flows.
The latest information suggests flows will rise to about 175 gigalitres a day by early December and could then go higher towards the end of the month and into early January.
The second peak has been influenced by the most recent rains interstate in critical catchment areas and the release of water from the Hume Dam.
Flow forecasts for the second peak should be available on Thursday.
Flooding is set to impact thousands of shacks, homes and businesses, with at least 4000 properties likely to be inundated.
Renmark, in the rural Riveralnd area, is considered the town most at risk and work has been under way for several weeks to shore up the town's levees which were designed to withstand river flows of 210GL a day.
But concerns are rising for Mannum, east of Adelaide, where work will be done to strengthen its levees amid fears parts of the town could be flooded.
AAP
McGowan in awkward exchange over IR bill support
By
Hamish Hastie
Now to WA, where Premier Mark McGowan found himself between a rock and hard place on the South Perth foreshore by refusing to outline his stance on his federal Labor counterparts' industrial relations legislation.
The awkward exchange occurred while McGowan was making a $750 million announcement alongside of some of the state's most powerful mining and resources businesspeople this morning.
McGowan batted away questions from veteran 7 News Perth journalist Geof Parry on his level of support for the proposed laws, which have found no love in WA's mining and resources sector.
"I answered all those questions yesterday, the day before, Friday, Thursday of last week, [I'm] not getting into those today, but I am very excited by this new initiative that we've worked very hard on and work co-operatively with industry on," he said.
Parry asked whether the McGowan could remind him of his stance because he was not at those press conferences, to which the premier responded: "You should have come, Geof."
After being pressed further McGowan threatened to leave the press conference.
Rio Tinto Australia boss Simon Trott, BHP iron ore asset president Brandon Craig, Woodside chief executive Meg O'Neill and Hancock Prospecting chief executive Barry Fitzgerald were also at the press conference.
Earlier, Trott railed against the proposed laws and suggested they should be amended to not impact sector like mining where wage growth was not an issue.
"We've got concerns about the current legislation I think as it's currently drafted with multi-employer bargaining," he said.
"It risks taking us back, taking us back to where there were strikes, taking us back to where productivity was harder to drive and ultimately, there will be a handbrake on the entire economy."
At a press conference yesterday, McGowan said the IR legislation was a matter for the Commonwealth government, but he recognised the issue it was trying to address.
"Obviously, there has been an issue in Australia with low wages growth, particularly for ordinary workers and low paid workers, which the commonwealth is trying to fix," he said.
Labor questioned over industrial relations bill
By
Angus Thompson
Question time is well underway at Parliament House in Canberra, where the federal opposition has been targeting Small Business Minister Julie Collins over the government's industrial relations bill.
An inquiry into the Secure Jobs, Better Pay bill heard today the government's regulatory impact statement forecast small businesses that engage in multi-employer bargaining would have to pay almost $15,000 each, due to hours spent bargaining and consultants costs.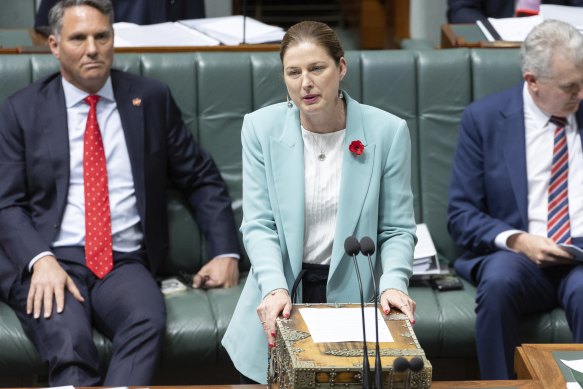 Asked what the cost was, Collins said small businesses already incurred costs when they bargained with their employees.
Asked about the cost a second time, Collins said more than two million businesses were exempt from the "single-interest" bargaining stream, in which employers can be roped into multi-employer bargaining if most workers from each business agree to, by virtue of them having 15 or less staff.
"Many businesses already incur costs and that many businesses are already covered by their employer peak organisation," she said.
Workplace Relations Minister Tony Burke said there was always an expectation the threshold for small business engaging in multi-employer bargaining would be negotiated in the Senate, in a further sign the government is willing to give ground on its industrial relations bill.
Victorian independent MP Zoe Daniel, who voted for the bill in the lower house, asked Burke whether the definition of a small business should be raised to above more than 15 staff, to acknowledge the concerns of operators fearing they will be drawn into negotiations with other businesses over pay.
Burke replied it was one of the issues being negotiated with the Senate crossbench.
"There has always been an expectation that when the bill hit the Senate that this [issue would be] part of those negotiations," he said.
Burke said he wanted to be mindful that changing the threshold didn't affect the benefits early childhood educators would receive from multi-employer bargaining.