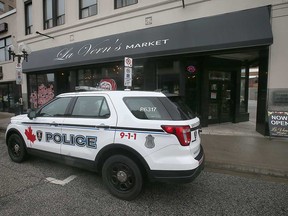 It's a new year, but the same story for downtown Windsor boutique grocery store La Vern's Market, where there's been another break-in over small food items. Specifically: butter tarts.
Store owner Vern Myslichuk shared on Wednesday that earlier the same morning — around 1:45 a.m. — the business was once again illegally entered and stolen from.
Windsor Star Headline News
Sign up to receive daily headline news from the Windsor Star, a division of Postmedia Network Inc.
By clicking on the sign up button you consent to receive the above newsletter from Postmedia Network Inc. You may unsubscribe any time by clicking on the unsubscribe link at the bottom of our emails or any newsletter. Postmedia Network Inc. | 365 Bloor Street East, Toronto, Ontario, M4W 3L4 | 416-383-2300
Like the previous incident, which happened the morning of Dec. 20, the culprit threw a rock to smash a glass door and gain entry to the store.
And also like the Dec. 20 incident, the thief left with nothing more than butter tarts.
According to Myslichuk, the tally of stolen items from Wednesday included 13 single butter tarts, six twin-packs of tarts, and one pack of a half-dozen tarts — for a total value of $37.14.
Meanwhile, the cumulative repair costs for the broken glass have exceeded $1,000.
"What a joke," Myslichuk commented. "The city can't stop this kind of petty criminal behaviour. This is pathetic. When will someone really go to jail?"
Where the hell is the city's position on this. This is now 6 times in less then 1.5 years, and 2s in a week. It's the butter tart bandit, this is pathetic. When will someone really go to jail!!!

Posted by La Verns Market on Wednesday, January 4, 2023
Myslichuk noted that along with the Dec. 20 break-in, La Vern's Market also sustained window damage on the night of Dec. 29.
Combined with Wednesday's incident, that's six times the store has been targeted for theft and costly vandalism since it opened in the summer of 2021.
Myslichuk said he was told there's a good chance it's been the same individual responsible for each of the recent crimes.
Recommended from Editorial
Im done with this BS

Posted by La Verns Market on Wednesday, January 4, 2023
Article content
On the topic of what can be done to prevent future incidents, Myslichuk commented that it would "be a start" if there were "consequences for crimes."
"When you can break in, get arrested, only to do it again one week later…" Myslichuk fumed. "Change the way we treat criminals is more the answer… Let's start with fixing the problem and not pushing the cost onto the owner."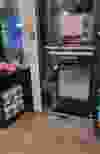 Ward 3 Coun. Renaldo Agostino, who promised to address downtown crime in his election campaign, said he personally stepped in this time to pay for security improvements at La Vern's Market out of his own pocket.
There's a difference with the new glass: It has a coating by 3M which should make it difficult to shatter.
"It's an experiment. I want to see how it works," Agostino said. "3M has been talking about this with me for about a month now."
Article content
"It's not unbreakable. You can break it — but you can't get through it."
Agostino said the 3M treatment cost him about $350.

However, La Vern's Market isn't the only downtown business dealing with window damage. Agostino said he's been in contact with others — from convenience stores to shawarma sellers — that have experienced seemingly random glass breakage in recent weeks.
"There's a lot going on," Agostino said. "I'm downtown every day. I talk to the owners, and they're showing me steel nuts and bolts."
Agostino said he's deep in the process of developing a new downtown security and safety plan — which includes ideas like more 3M glass — and he hopes to bring it before council and the Downtown Windsor Business Improvement Association for implementation before the spring.
"I can't seem to work on this plan fast enough, unfortunately," Agostino said. "We really need some big changes downtown."
"Not all these ideas might work, but I'm not afraid to try, and I'm not afraid to fail."