The global markets continue to be under a deep bearish influence despite the bulls continuing to hold the price above the crucial support levels. Meanwhile, the selling pressure has eased to some extent, but it appears to be a major trap set up for the bulls. Additionally, the volume also has dropped notably which may reverse the current bullish trend in no time. 
The collapse of the FTX exchange has led to a major drawback for another popular exchange, Crypto.com which has been a matter of concern for many. As per some reports, CDC witnessed massive withdrawals, speculating that the exchange was bankrupt.
It all started when the platform transferred nearly $400 million to FTX, which is clarified as a mistake but rather speculated as a cover-up. The market participants were agonized and dragged the funds out of the platform. 
However, the CEO, kris marszalek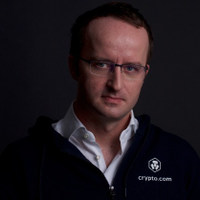 kris marszalek ceo at crypto.com Kris Marszalek is an enthusiastic crypto entrepreneur and an active and true believer. Being a professional is the Chief Executive Officer at Crypto.com, built on a substantial establishment of security, privacy, and compliance and is the first cryptocurrency company across the world to have ISO/IEC, CCSS Level 3, PCI level 1 compliance, and autonomously assessed at Tier 4, the highest level for both NIST Cybersecurity and Privacy Frameworks. He associates and encourages startups to enhance their business and meet their aims.He along with his team of Crypto.com collaborated with Pay and Shopify, offering millions of merchants to accept crypto. He believes one of their core values at Crypto.com is to Remain Humble which means they don't seek the limelight, always try to take the high road, and do the right thing. He always tends to ignore the noise, and prove people wrong with actions, not words.He is extremely experienced with 18+ years of experience, he previously, served in numerous respected and well-established organizations including Starline Polska Sp. z o.o., an award-winning Consumer Electronics design studio and manufacturing business as Co-founder & Senior Vice President, Co-founder & CEO at YIYI Hong Kong Limited, and BEECRAZY, one of the leading e-commerce business in Hong Kong, and CEO at Ensogo which was listed on Australian Security Exchange.He acquires a deep knowledge of innumerable skillfulness including Business Development, Business Strategy, E-commerce, Online Advertising, Mobile application, Digital strategy, Email Marketing, and Strategic Partnerships. He experienced growth and stability with Crypto.com which was encouraged by the launch of Defi Swap and he never stopped promotional campaigns. The platform announced imperiously that it has received provisional approval for a virtual asset MVP License from the Dubai Virtual Asset Regulatory Authority. At present, it serves over 10 million customers with the world's quickest growing crypto application. EntrepreneurChief Executive Officer



Followers : 0 View profile , admitted to mishandling funds but assured that the platform is in good health. Meanwhile, the CRO price, which had been notably recovering, is speculated to come under the bearish influence again. 
The volume has dropped notably in the past couple of hours, which may intensify the bearish pressure over time. Meanwhile, the RSI is trying to rise but also displaying the possibility of a stagnant trend in the next couple of hours. On the other hand, the MACD is still bearish despite a minor buying pressure mounting up. 
Therefore, the CRO price may continue to remain under bearish pressure and could also plunge heavily to form new monthly lows close to $0.05 very soon. 
Was this writing helpful?