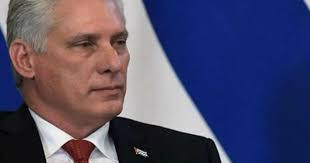 Cuban President Miguel Díaz-Canel, while speaking Thursday at a meeting with political, government, and business leaders in eastern Bayamo city, said that the country's development depends on agricultural production.
He noted that the development of the food production sector will boost others such as industry, and stressed that in this territory progress is being made, but there is still much work to be done.
This is the 12th meeting of the program carried out by Díaz-Canel to check in every province of the nation the actions implemented to face the economic situation of the country.
According to the Presidency of the republic the meeting was also attended by Prime Minister Manuel Marrero and the Secretary of Organization of the Communist Party of Cuba, Roberto Morales, along with other members of the Council of Ministers.
The Cuban president held similar meetings in the provinces of Guantánamo and Santiago de Cuba.
Portal Institucional y sitio oficial de la Radio Cubana en Internet.
Fundado el 14 de marzo de 2006.