More than 2,700 leaders across politics and business have gathered in Switzerland, for a conference on the theme of 'Cooperation in a Fragmented World.'
The meeting, which "allows some degree of coordination among elites," has long been targeted by conspiracy theorists.
The theories reached a fever pitch after Klaus Schwab, founder of the World Economic Forum, published a book titled 'COVID-19: The Great Reset' in 2020.
Many of the world's most powerful business leaders and politicians are currently gathered at Davos, a resort town in the Swiss Alps that has a year-round population of a little over 10,000 people.
The gathering is an annual event organized by the World Economic Forum (WEF), a non-governmental organization that says it is dedicated to promoting "dialogue and collaboration between business, government, and civil society."
This year's Davos is taking place from 16 to 20 of January, with political attendees including U.S. climate envoy John Kerry, European Commission President Ursula von der Leyen, and Chinese vice-premier Liu He.
They are being joined by business tycoons including Amazon CEO Andy Jassy, Shell boss Wael Sawan and Gautam Adani, the Indian businessman who is currently the third richest person in the world. However, George Soros, the Hungarian-American billionaire and philanthropist has said he won't be able to attend this year "due to an unavoidable scheduling conflict."
With such a galaxy of influential figures, it is surely no surprise that Davos attracts intense scrutiny, and is the target of unverified or debunked conspiracy theories.
What Is the World Economic Forum?
The body today known as the World Economic Forum was founded in 1971 by Klaus Schwab, a German economist teaching at the University of Geneva, as the European Management Forum (EMF). According to the WEF's website, Schwab wanted to create an informal vehicle for business leaders to talk about key issues, such as "better management techniques."
In February 1971, the EMF held its first meeting in the Swiss Alpine resort town of Davos, starting an annual tradition that continues to this day.
Over the years, the organization grew and increasingly attracted political leaders along with key figures from the world of business. Reflecting its increasingly international scope, the EMF changed its name to the World Economic Forum in 1987.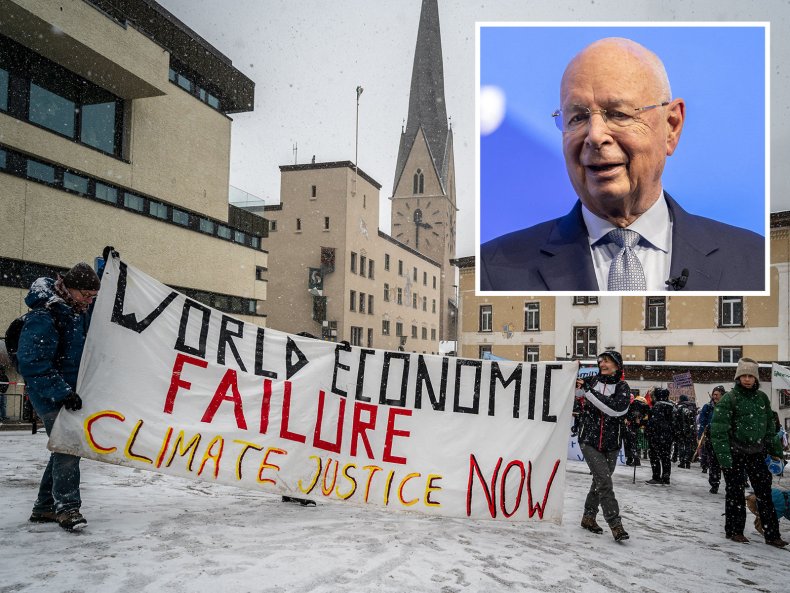 Around 1,000 of the world's largest businesses are affiliated with the contemporary WEF as "partners," typically having an annual turnover of at least $5 billion.
According to its mission statement, the WEF "engages the foremost political, business, cultural and other leaders of society to shape global, regional and industry agendas."
Speaking to Newsweek, Professor Daniel Hellinger, a Webster University academic and author of Conspiracy and Conspiracy Theories in the Age of Trump, argued the WEF has come to supplant other informal elite power networks.
He said: "The IMF and World Bank may have more formal, institutionalized power over the world economy, but the WEF brings together super-affluent corporate leaders who meet one another and with elites drawn from other political and social milieus.
"It has come to supersede Bilderberg and the Trilateral Commission as the most coherent and powerful network of elites who own and manage vast personal fortunes and corporations [that] have assets that accede some large countries."
What Is Happening at Davos?
Around 2,700 business leaders, politicians, civil society leaders, and academics were asked to attend this year's Davos summit, which is strictly invite-only.
The forum consists of a range of conferences, meetings and other events, with a number of topics under discussion.
Along with its headline theme of 'Cooperation in a Fragmented World,' this year's Davos meeting has five sub-themes: inflation, the energy and food crisis, technological innovation, geopolitical risks, and social vulnerabilities.
In total, 51 heads of state, including German Chancellor Olaf Scholz and the presidents of Poland, South Korea, Spain and the Philippines, are expected to attend this year's Davos summit.
They will be joined by NATO General Secretary Jens Stoltenberg, IMF Managing Director Kristalina Georgieva, World Health Organization boss Tedros Adhanom Ghebreyesus and European Central Bank chief Christine Lagarde.
Swedish environmental campaigner Greta Thunberg had been expected to make an appearance at the event, though it's unclear if this will go ahead following an interaction with German police.
An online claim that 5,000 Swiss troops are being used to protect the Davos meetings has been categorized as "misleading" by Newsweek.
Conspiracy Theories
The annual Davos meetings have long been the target of conspiracy theories, which generally argue an unaccountable elite secretly uses the forum to plot their control over the world, to the detriment of wider humanity.
Some more extreme critics, often connected to the Donald Trump-supporting QAnon movement, falsely believe the WEF acts as a sanctuary for pedophiles and Satanists.
The News Punch website, which has published a number of stories based on conspiracy theories, got thousands of shares on social media shares for a story incorrectly claiming the WEF had said "pedophiles will save humanity."
It erroneously said WEF Chairman Klaus Schwab had called pedophilia "nature's gift" to humanity and falsely claimed a paper had been presented at a previous Davos summit arguing pedophilia is "nature's attempt to cleanse the earth and 'save humanity' from itself."
These claims were dismissed as "baseless" by the Associated Press news agency. Speaking to AP, Yann Zopf, the WEF's head of media, added: "This is of course completely made up. I confirm that the World Economic Forum never made any statement of this kind and has never produced such a research paper."
Geoff Walton, a senior lecturer in information and communications at the U.K.'s Manchester Metropolitan University, told Newsweek that part of conspiracy theory's appeal is "as humans we are pre-disposed to look for, and see, patterns in things and see them even when they aren't there."
He added: "Conspiracy theories play on our emotions and tend to be very simple, engaging stories which are immediately attention-grabbing and seductive (people with low levels of information discernment are particularly susceptible to seductive text)."
Hellinger, who studies conspiracy theories, pointed out that, whilst some of the wilder conspiracy theories aimed at the WEF are clearly wrong, the group is influential with questionable accountability.
He said: "Meeting in a wealthy ski resort with strict limits on public access, why wouldn't they be suspected of conspiring?
"The WEF may not be able to leverage financial resources to force policies on reluctant governments or (modestly) shape the world economy, but it is in these off-limit hallways and conference rooms that powerful and wealthy elites try to reach a consensus about how to promote and defend economic globalization.
"This kind of networking may not constitute a conspiracy, but neither does it represent a transparent and democratic way to address global problems."
Joseph Uscinski, a University of Miami academic and author of American Conspiracy Theories, told Newsweek many people don't know much about international bodies like the WEF, but find the way they are run suspicious.
He said: "I am not sure that most people know who the IMF, World Bank, or WEF are. Maybe a few people online know about these organizations and actively accuse them of conspiracy.
"Oftentimes, people don't always have details about specific groups or their activities, but just think that rich, powerful people are pulling strings from behind the scenes."
The Great Reset
In 2020, WEF Chairman Klaus Schwab published COVID-19: The Great Reset, a book discussing how coronavirus could impact the world. The book was quickly seized on by conspiracy theorists.
According to The Guardian, for some radical activists, the term "the great reset" came to mean the belief that global elites were using "COVID-19 as an opportunity to roll out radical policies, such as forced vaccination, digital ID cards and the renunciation of private property."
Discussing what he believed "the great reset" would be on his Fox News show, Tucker Carlson said: "This is what it looks like: the people in charge doing whatever they want because they're in charge. There will be no live music in the Great Reset. Choirs will be illegal unless they are singing the praises of Kamala Harris. Christmas will be banned. 'Sorry, put on your mask and spend the holidays alone. Good luck.'"
Speaking to Newsweek, Mike Rothschild, author of The Storm Is Upon Us: How QAnon Became a Movement, Cult, and Conspiracy Theory of Everything, argued "the great reset" theory turned the WEF into a major target for conspiracy campaigners.
He said: "WEF conspiracy theories are a fairly new phenomenon, spawned almost entirely by WEF head Klaus Schwab's book released in the first year of the pandemic, The Great Reset. Schwab saw the pandemic as an opportunity to redefine how we work, travel, and consume—but conspiracy theorists applied the old New World Order/UN Agenda 21 tropes to it and decided it was a blueprint for humanity to be enslaved or destroyed, with only the elites surviving."
Rothschild added: "It's nothing new if you've been studying this stuff for a long time, but feels very cutting edge simply because of the emphasis on COVID. It's also just got a scary-sounding name The Great Reset. [It] freaks people out, especially when you pitch it alongside conspiracy theories and hoaxes."