Publishing date:
Nov 16, 2022  •  1 hour ago  •  3 minute read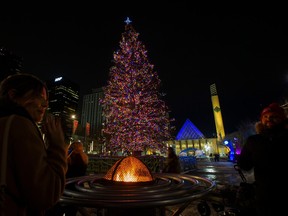 Festivities in Downtown Edmonton this holiday season will be different this year — no giant Christmas tree, and it won't be happening at Churchill Square.
Gathering around a big tree to kick off the holidays has been an annual tradition for thousands of Edmontonians for more than two decades. But the head of the Edmonton Downtown Business Association said it doesn't make sense for them to pay for it anymore.
Edmonton Journal Headline News
Sign up to receive daily headline news from the Edmonton Journal, a division of Postmedia Network Inc.
By clicking on the sign up button you consent to receive the above newsletter from Postmedia Network Inc. You may unsubscribe any time by clicking on the unsubscribe link at the bottom of our emails. Postmedia Network Inc. | 365 Bloor Street East, Toronto, Ontario, M4W 3L4 | 416-383-2300
Puneeta McBryan, executive director of the EDBA, understands some Edmontonians will be disappointed but it doesn't "have any direct value or impact to businesses" in the core.  Families would often get drinks and food in the square, and head home without shopping nearby, she said. The event's new location is meant to encourage people to visit local businesses.
"It made sense (20 years ago) for a lot of reasons. It's a really big signature event for the city, draws a lot of people Downtown, and it was always a big one-night event on a Saturday, and thousands of people would come down," she said Wednesday.
"It was good for vibrancy for the duration of the event, but the direct benefit to businesses wasn't really there."
McBryan said they felt the best use of their resources was to focus on an area that was more of a hidden gem — at Rice Howard Way — and which is directly surrounded by different businesses.
"I think it's hard for people to imagine that what we're doing is still going to be a really magical holiday experience," she said, noting the pushback the group has received about the tree.
"I'm really excited to see so many people down there, see the whole area lit up, and just hopefully change a lot of people's perceptions of what Downtown looks and feels like these days."
This year, the Light Up festival will involve music, snacks, lantern-making, art installations, and street performers at Rice Howard Way a few blocks south of city hall. There will also be an indoor Christmas market, and at least three decorated trees outdoors — but these are temporary.
City gave cash to holiday event
The City of Edmonton isn't planning on erecting its own holiday tree and doesn't typically pay for this event, according to city spokeswoman Karen McDonnel. Doing so would cost an estimated $124,000, she said.
However, the city gave the EDBA $88,980 for Light Up through the Downtown Vibrancy Fund in 2021, and this year it received $10,000 through the city's festival and event COVID recovery grants which included funding the Light Up event, along with $40,000 for the Downtown vibrancy strategy, said McDonnel.
"Factoring in this cost and the environmental implications of cutting down and transporting a mature natural forest tree, the city decided to explore other opportunities to bring vibrancy to Churchill Square that would complement the new Holiday Light Up event being planned by the EDBA," she wrote in an email Wednesday.
Article content
Other events will include "free, family-friendly seasonal activations" in the square such as "winter and holiday-themed light-up accessories," along with skating, as well as to-be-announced events for New Year's Eve.
Light Up was different in 1986
While this year's iteration doesn't include a tree, it wasn't always part of the festival.
Light Up has been running in Edmonton since 1986 and involved a big tree in Churchill Square since at least 1999. Postmedia archives show the early festival centered around turning on the Christmas lights Downtown — usually by Santa Claus, and later on the mayor — followed by fireworks.
In 1993, a "fire-eating" dragon named "Desmond" did the honour and the fireworks were set to Tchaikovsky's 1812 Overture. About 12,000 people attended the event in 1989 which was initially dubbed "Christmas Lights Downtown."
The EDBA also held an indoor Santa Claus parade through Downtown malls and the pedway system in the mid to late 1990s.