Gartner je objavil vsakoletno analizo gibanja investicij v informacijsko tehnologijo, ki najbolj prikazuje stanje v panogi. Za leto 2023 napovedujejo rast v višini 2,4%, kar na globalnem nivoju pomeni skoraj 4,5 bilijonov dolarjev sredstev za IT. Toda ta rast je bila še pred nekaj meseci bolj optimistična, saj so napovedovali rast v višini 5,1%.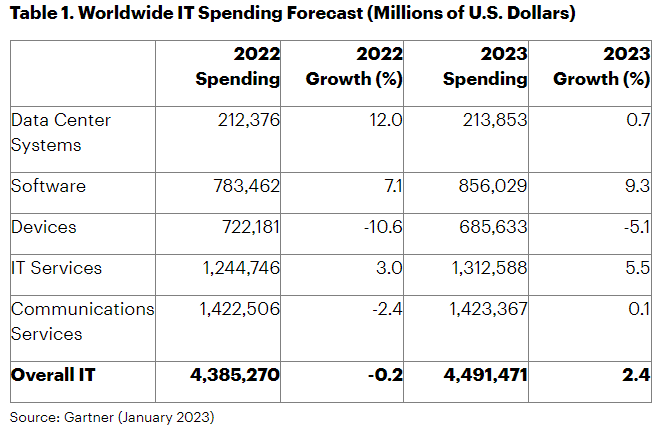 Glavni razlog za nižjo napoved je inflacija na številnih svetovnih trgih, kar zmanjšuje porabo za informacijsko tehnologijo. Toda po mnenju strokovnjakov to velja pretežno za izdelke in storitve, ki so povezane s končnimi potrošniki, medtem ko na investicije v poslovne informacijske rešitve to nima tako velikega vpliva.
To ugotovitev najbolj ponazarja razčlenitev na posamezna področja informacijske tehnologije. V računalniške naprave (devices) se bo v letu 2023 vlagalo 5,1% manj kot v letu 2022.Tu se najbolj odraža obnašanje potrošnikov, pa tudi podjetja bodo manj investirala, saj so a tem področju veliko vložila v času pandemije, zdaj pa želijo nakupne cikle podaljšati.
V nasprotju pa bodo vlaganja v programsko opremo in IT storitve v letu 2023 zrasla za 9,3% oziroma 5,5%. Pri Gartnerju opozarjajo, da bi lahko vlaganja v It storitve bila še večja, če bi podjetja imela dovolj kadrov. Kot je znano, na globalnem nivoju že nekaj časa občutno primanjkuje najrazličnejših IT strokovnjakov. Mnoge so posrkali k sebi internetni velikani, kar je močno omejilo razvoj informacijskih rešitev v ostalih podjetjih. Morda se bo v letu 2023 to spremenilo zaradi občutnega odpuščanja s strani internetni velikanov, ki smo mu priča v začetku leta.

Naroči
se na redna tedenska ali mesečna obvestila o novih prispevkih na naši spletni strani!