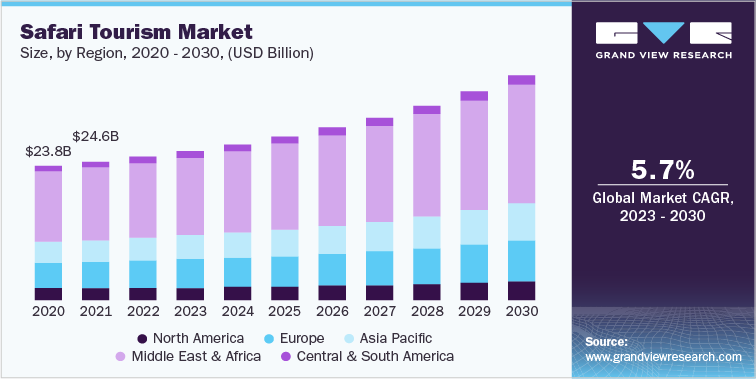 Safari tourism industry data book covers adventure safari tourism and private safari tourism market.
Global safari tourism industry data book is a collection of market sizing information & forecasts, trade data, pricing intelligence, competitive benchmarking analyses, macro-environmental analyses, and regulatory & technological framework studies. Within the purview of the database, such information is systematically analyzed and provided in the form of outlook reports (1 detailed sectoral outlook report) and summary presentations on individual areas of research.
The global safari tourism market size was valued at USD 25.44 billion in 2022 and is expected to grow at a compound annual growth rate (CAGR) of 5.7% from 2023 to 2030.
Adventure Safari Tourism Market Analysis & Forecast
The global adventure safari tourism market size was valued at USD 16.68 billion in 2022 and is expected to grow at a compound annual growth rate (CAGR) of 5.8% from 2023 to 2030. Adventure safaris are experiencing substantial growth due to the increasing demand from travelers, including millennials, for unique and immersive travel experiences. These safaris offer thrilling activities such as walking safaris and hot air balloon rides, going beyond traditional wildlife viewing. Travel companies and tour operators are capitalizing on this trend by introducing adventure safari packages to cater to the rising demand. For instance, in February 2023, Arabian Adventures, a leading destination management company and tour operator in the UAE, is responding to high demand by reintroducing an enhanced version of its Jeep Adventure Safari. The safari is designed to showcase the hidden gems of the UAE, with a curated itinerary that encompasses six key locations. The itinerary includes remarkable sites such as Camel Rock, Buhais Geology Park, Shawka Pools, Mleiha Archaeological Centre, the 'Valley of the Caves' at Al Faya Mountain, and Wadi Al Helo. This unique and immersive experience allows travelers to uncover the wonders of the UAE's natural and cultural heritage.
The allure of exploring breathtaking natural landscapes, encountering wildlife up close, and engaging in thrilling activities like game drives and bushwalks has resonated with adventure-seeking travelers. This growing interest in experiential travel is driving the growth of the adventure safari tourism market.
Group travel is a prominent trend in the adventure safari tourism market, with millennials showing a strong inclination towards group travel experiences. According to a recent study conducted by the Centre for the Promotion of Imports from developing countries (CBI), a division of the Ministry of Foreign Affairs of the Netherlands, it was found that 37% of millennials in Europe expressed a strong preference for group travel with friends in 2021.
Friend groups often exhibit common interests and preferences in seeking thrilling experiences, exploration, and embracing new challenges, making adventure safari activities an attractive choice for them to engage in enjoyable and boundary-pushing endeavors collectively.
Order Free Sample Copy of "Safari Tourism Industry Data Book – Adventure and Private Safari Tourism Market Size, Share, Trends Analysis, And Segment Forecasts, 2023 – 2030" published by Grand View Research
Private Safari Tourism Market Analysis & Forecast
The global private safari tourism market size was valued at USD 8.76 billion in 2022 and is expected to grow at a compound annual growth rate (CAGR) of 5.6% from 2023 to 2030. The private safari tourism segment is witnessing significant growth due to the increasing demand for exclusive and tailored experiences among travelers. Factors such as customization, exclusivity, luxury accommodations, personalized services, and expert guides are driving the growth of this segment, contributing to the overall expansion of the market. Tour operators are increasingly launching private safari tours to cater to the growing demand for personalized and exclusive experiences among travelers. These private tours offer a range of benefits, including customized itineraries, flexible schedules, and the opportunity to explore remote and pristine locations.
For instance, in March 2021, Augustine's Adventure Africa (AA Africa), one of the leading tour operators in Africa introduced enhanced and customizable tour packages for Tanzania, aiming to provide clients with an unforgettable and visually captivating experience. Their newly launched private adventure safari in Tanzania offers optional extensions to various destinations such as Zanzibar, Kenya, Rwanda, Uganda, South Africa, and Victoria Falls. The launch of private safari tours by tour operators reflects the industry's commitment to meeting the evolving preferences and expectations of discerning travelers, providing them with unique and tailored adventures in the wilderness.
The private safari tourism market has witnessed significant growth attributed to the increasing preference of friend groups for exclusive and customized travel experiences. This segment offers tailored itineraries, personalized services, luxury accommodations, and expert guides, catering to the specific interests and preferences of friends traveling together. The desire for privacy, flexibility, and the opportunity to bond and create lasting memories in a group setting has fueled the demand for private safari tours among friends. This trend is expected to drive the growth of the private safari tourism market in the coming years, as tour operators continue to develop and promote specialized offerings for this segment.
Go through the table of content of Safari Tourism Industry Data Book to get a better understanding of the Coverage & Scope of the study.
Safari Tourism Industry Data Book Competitive Landscape
In the dynamic safari tourism market, launching new tours and itineraries is essential for companies to maintain competitiveness and meet the evolving demands of travelers. It presents an opportunity to expand the customer base, target new market segments, and cater to diverse travel preferences. By offering fresh and distinctive experiences, safari tour operators can differentiate themselves from competitors, enhance customer satisfaction, and foster repeat business.
Key players operating in the safari tourism industry are –
• Abercrombie & Kent
• African Parks
• AndBeyond
• Big Five Tours & Expeditions
• Cheli & Peacock Safaris
• Classic Africa
• Gamewatchers Safaris
• Great Plains Conservation
• Intrepid Travel
• Ker & Downey Africa
• Kwando Safaris
• Natural Habitat Adventures
• Nomad Tanzania
• Ol Pejeta Conservancy
• Red Savannah
• Rhino Africa
• Safari Architects
• Safari365
• Sanctuary Retreats
• Singita
• Thomson Safaris
Grand View Research, Inc. is a market research and consulting company that provides off-the-shelf, customized research reports and consulting services. To help clients make informed business decisions, we offer market intelligence studies ensuring relevant and fact-based research across a range of industries, from technology to chemicals, materials and energy. With a deep-seated understanding of varied business environments, Grand View Research provides strategic objective insights. For more information, visit http://www.grandviewresearch.com