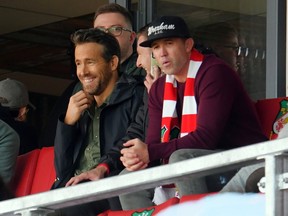 Soccer superfan Richard Ulrich can talk "footie" for hours — until you ask him what it meant when Canadian A-list movie star Ryan Reynolds and his business partner, actor Rob McElhenney, bought Ulrich's beloved Wrexham AFC.
"It's hard to put into words," Ulrich said. "It's like winning the lottery, a fairytale come true, and the stuff of dreams all rolled into one. Sometimes we have to pinch ourselves to believe it's really happening," he said.
Ottawa Citizen Headline News
Sign up to receive daily headline news from Ottawa Citizen, a division of Postmedia Network Inc.
By clicking on the sign up button you consent to receive the above newsletter from Postmedia Network Inc. You may unsubscribe any time by clicking on the unsubscribe link at the bottom of our emails. Postmedia Network Inc. | 365 Bloor Street East, Toronto, Ontario, M4W 3L4 | 416-383-2300
"I mean, it's 'hopes and dreams' isn't it? And it's not just the football club. It's literally brought the town to worldwide attention."
Two years ago, Reynolds, the star of the Deadpool movie franchise, and McElhenney, star and creator of the comedy It's Always Sunny in Philadelphia, bought the club from the financially strapped Wrexham Supporters Trust. The two friends documented their football foray in the FX series Welcome to Wrexham.
Now Reynolds' name is being bandied about as a potential buyer or investor in the Ottawa Senators, which officially announced the team was for sale on Friday.
When Reynolds' name came up as a buyer of Wrexham's struggling football club, few in the hardscrabble north Wales community gave it much stock.
"I think initially when Wrexham people found out, if I'm honest, I don't think people believed it," said David Bithell, deputy leader of Wrexham Council. "We never heard rumours. It was just a story that came alive. It was just announced. Now everywhere you go it's like Hollywood is rolling into town."
Hockey is a game close to Reynolds' heart and Ottawa is a city where he and his wife, actress Blake Lively, have shared their love before through donations to the Ottawa Food Bank and the Ottawa Distress Line and playful shout outs on social media to Ottawa Public Health. A new street in the city will be known as Ryan Reynolds Way.
But if Ottawa has a crush on Reynolds, it has a rival in Wrexham for Reynolds' affection.
Next week, the city's executive board will vote on a motion, which if approved by council, will grant Reynolds and McElhenney the "Freedom of Wrexham" — its highest civic honour.
"They're really nice, down to earth people from what I've seen," Bithell said. "The fans absolutely adore them. It's been like rags to riches."
Neither Reynolds nor McElhenney knew much about "footie" when they made their pitch for Wrexham AFC. In Welcome to Wrexham, McElhenney explains how his passion for his hometown Philadelphia Eagles of the NFL made him realize how much a team's success can means to a community like Wrexham. He enlisted Reynolds — himself a sports fanatic — because he needed "superhero movie star money" for the venture. Reynolds, with his Hollywood contracts and business interests in Aviation American Gin and Mint Mobile cell service, has an estimated fortune of $150 million, according to the website celebritynetworth.com.
Reynolds' and McElhenney's impact on the team, and the city, have been profound, Bithell said. Wrexham AFC was established in 1864 and is the third oldest professional football club in the world. The Racecourse, Wrexham's home pitch, is the world's oldest international stadium still in use. But after glory days in the early 1970s, Wrexham AFC, like Wrexham itself, has fallen on hard times.
For 15 years, the club has been relegated to the National League, the lowest ranking of all-professional football leagues in the UK. Unlike the NHL, bottom finishers in UK football leagues are relegated into lower tier leagues. It would be as if the Senators after an unsuccessful season (cough, cough) were to find themselves riding the bus to games against the Syracuse Crunch or the Lehigh Valley Phantoms of the American Hockey League.
Conversely, success on the football pitch can vault a team upward into higher-level play, bringing in higher revenue and the ability to attract better players. Ending Wrexham's football purgatory is a goal for the club's new owners.
"We were going nowhere. It was like we were just treading water," said Ulrich, a season's ticket holder who volunteered with the team from 2014-19 until he got frustrated with the team's direction. "It's been my lifelong ambition that we can get out of this league."
With Reynolds' and McElhenney's star power, Wrexham now attracts fans from around the world. In their first season, the team came to within a heart-breaking, nail-biting extra time loss from promotion.
"They've transformed the club," Bithell said.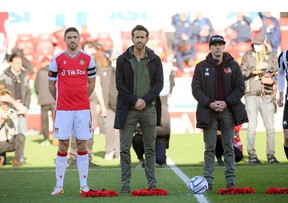 "I don't mean this in a derogatory way, but before (the club) was always looking for ways to make ends meet. If they had a chance to sell players, they'd sell them. We've gone from being run in an amateurish way, because that's what we had to to survive, to being a real professional outfit now. There's not many sides in the National League that can compete with the financial muscle that Ryan and Rob have brought."
Attendance has soared from a few thousand fans per game to regular 10,000 seat sellouts. It's now hard to see a game at the Racecourse unless you have season's tickets, Bithell said.
"They've turned the fan base around overnight. When you mention Wrexham now it's not just in the local newspaper, it's international news. Wrexham is a global phenomenon now with Rob and Ryan."
Bithell says he's seen the chatter on Twitter about Reynolds and the Sens. Does he worry the star might lose interest in his Welsh club?
"I think they're both really really passionate. They have a good rapport with players and a good relationship with the football club. I don't think that would diminish," he said.
"Obviously the economy over in the UK is not good at the moment, but football-wise it's really good at the moment. Let's hope it continues."
We apologize, but this video has failed to load.
Ottawa vs. Wrexham
Ottawa
Population: 1,000,000
Founded: Incorporated as a city in 1855
Main employer: Founded as a logging town, major employer is now the federal government
Hockey team: Ottawa Senators
Established: 1992
Estimated value: $655 million U.S.
Arena: Canadian Tire Centre
Built: 1996
Capacity: 19,000 (The club has signed a deal with the NCC to build a new arena on LeBreton Flats)
Key player: Brady Tkachuk, Centre
Annual salary: $8.2 million U.S.
Team's current standing: Last place, NHL Eastern Conference
Last year's finish: Seventh place, NHL Eastern Conference
Next game: Saturday vs Philadelphia Flyers
Wrexham
Population 140,000.
Founded: Established in medieval time, the Town of Wrexham officially became the City of Wrexham on Sept. 1, 2022
Main industry: Originally coal mining and heavy industry, the city is now an administrative centre and home to light industry
Football team: Wrexham AFC
Established: 1864
Estimated Value: Ryan Reynolds and Rob McElhenney purchased the club in 2020 with the backing of the Wrexham Supporters Trust for $2.5 million U.S.
Arena: The Racecourse Ground, home to the club since 1864
Capacity: 10,000 (the club has plans for a 5,000 seat expansion that will include a hospitality lounge.
Key player: Paul Mullins, Forward
Annual salary: $234,000 U.S. (estimated)
Current Standing: Second overall in the National League, the fifth and lowest tier of professional football in the UK
Last year's finish: Second overall in the National League
Next game: Sunday vs. Oldham Athletic
Recommended from Editorial